Two months ago we told you the Unicode Consortium announced about Emoji 13.1 that is planned to debut in October this year, however, going to rollout in select devices next year. A minor update about the same has come out recently. The Unicode Consortium has approved 217 new Emojis in the Emoji v13.1. Out of these 217 new emojis, 210 of them are skin tone variants while 7 of them are completely new.
The 7 completely new emojis that are coming to the Emoji version 13.1 are listed below.
Heart on Fire
Mending Heart
Woman with Beard
Person with Beard
Face Exhaling
Face in Clouds
Face with Spiral Eyes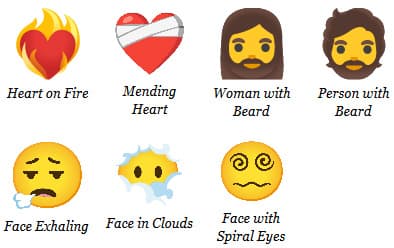 Talking about the 210 skin tone variant emojis, these are mostly the multi-person emojis. For example, Couple Groups with hearts and kissings.
Source: Unicode.org