In this article, We are going to tell you about Top 5 best 2.1 speakers in India under 10000 which you can buy right now.
The 2.1 speakers in the comparison of a couple of common speakers are designed in such a way that they provide us the sound like a home theater. In 2.1, 2 means two speakers and 1 means a subwoofer. So in 2.1 channel speakers, we have two stereo speakers and a subwoofer which we can connect to any music source and play audio. There is also an advantage of 2.1 channel speakers, which is we can enjoy comfortable surround sound if we do not even have a surround sound speaker.
If you are a casual listener then 2.1 speakers can be a better deal for you. As 2.1 channel speakers are known for their simplicity, low cost, and ease of use. Where can you use 2.1 channel speakers? The best places to use 2.1 speaker speakers are small rooms, apartments or a place where space is limited.
So far, we were telling you about 2.1 channel speakers, but today's article is dedicated to 5 best 2.1 speakers which you can buy right now. If you are thinking of buying a 2.1 channel speaker right now, then we think you have to read our article first before taking any decisions.
List of Best 2.1 Speakers you can buy right now
Philips MMS2141B/94 Bluetooth Home Audio Speaker
In our list of Best 2.1 Channel Speakers, we are giving Philips MMS2141B/94 Bluetooth Home Audio Speaker at the first position because of the several reasons we listed here. This speaker will give you 40W power output, which you can use with any Bluetooth enabled device. Even in this speaker, you get USB and SD card slots so that you can easily transfer your files and enjoy a lot of music.
The design of this speaker has been made curvilinear so that you get distortion-free natural and more balanced sound. Even this speaker has been designed to be compatible so that you can take any of it while traveling. Nor do you get good sound quality with this speaker, but also rich bass experience has been provided. Here you also get a built-in FM radio, so you can enjoy the radio in it too. Despite all these features, you can easily order this speaker from Flipkart in just Rs. 5299. We have given the link below.
F&D's F550X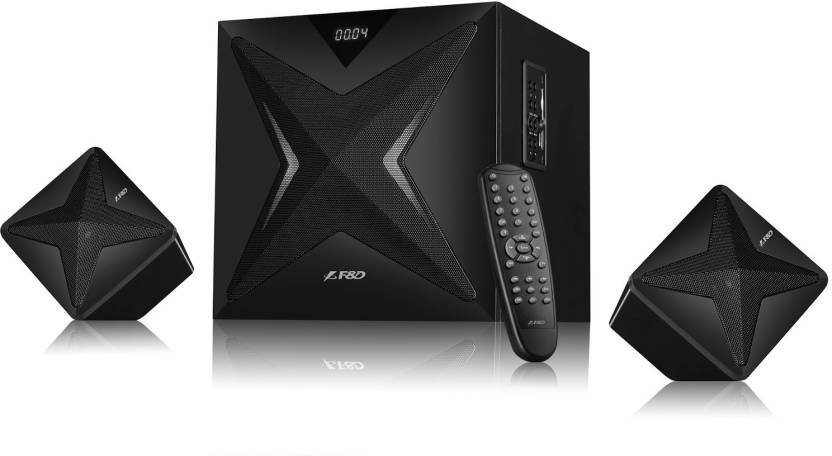 The next speaker we are going to tell you is a wireless home audio speaker in which you get two satellite speakers as well as a subwoofer. Yes, we are talking about F&D's F550X. This woofer also looks very beautiful as it has a cross-fluorescent light on the front. In this, you will find Crisp Sound and Powerful Bass. We get full feature Wireless Infrared Remote Control which makes our life hassle-free.
Here we get FM storage which supports almost 100 channels. So whenever you want to listen to the FM you can play your favorite FM channel here too. The plug and play USB/SD card reader feature is also available here, so you can easily listen to the songs in your USB/SD card directly. Its Bluetooth supports up to 15 meters. If your budget is up to Rs 5000, then, believe me, this home audio system will prove to be an affordable deal for you.
Panasonic SC-HTB20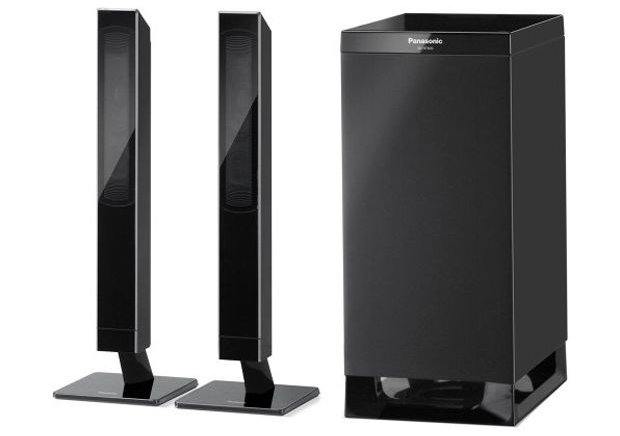 The next speaker's name in our list is Panasonic's SC-HTB20 model. Speaking of the audio system, here we get a subwoofer of 40W in which Dolby Digital is enabling by default. This is a full HD 3D compatible speaker where 1080p pixels output is fully clear. Here we get the Anti-Jitter Digital Amplifier. Its speakers are multi-positional, as well as wall mountable. Here you also get support for Bluetooth wireless technology.
Talking about the terminals, here we also get an HDMI output for TV, one HDMI output for DVD, two optical input for TV and auxiliary cable and finally, a 3.5mm audio pin. Talking about the power supply, it requires 120V AC current which operates at 60HZ. Normally this will consume your 40Watt power. In simple words, it's a great speaker system. Keeping the brand in mind, the price of this speaker is just Rs 5411 and you can buy it from Amazon. We have provided the link for you below.
SONY SRS-D9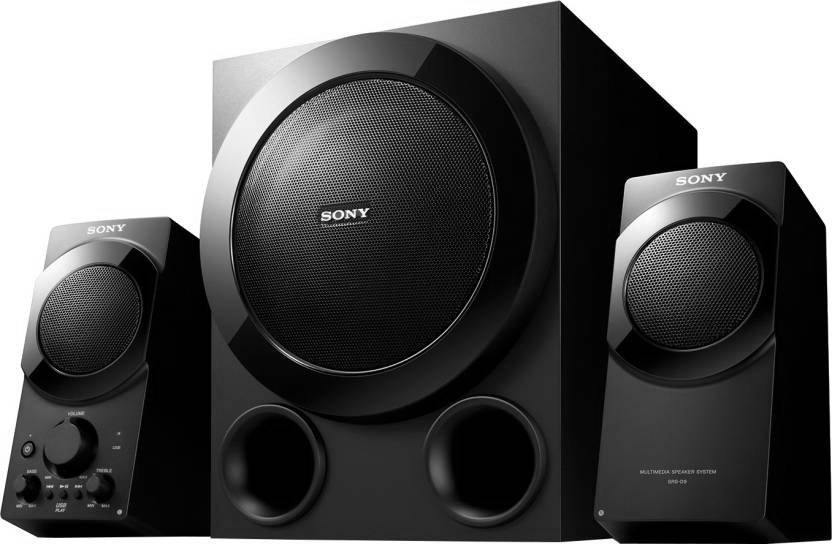 Sony SRS-D9 2.1 speakers model are also good speakers system. In all the speakers we have talked about till now the subwoofer's bass of this speaker is the most powerful. In this, you get a powerful bass of 60W. It also supports USB, with the help of which you can easily connect it to your TV, DVD and even your smartphone. Due to its metal-polished finish, it looks quite smart and stylish in appearance. It is up to 15-degree upward angle gives you great acoustics. If you want it, you can buy it from Amazon. We have given the following link.
HP K7S76AA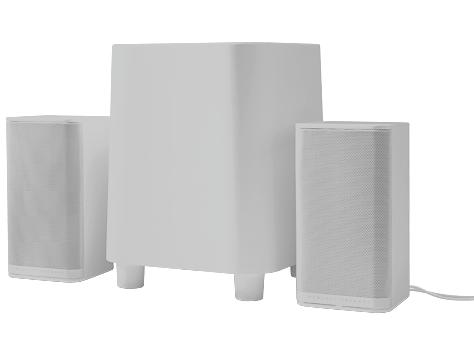 The next speaker we are going to talk about is the HP's K7S76AA. The most special thing about this speaker is its ultra bass subwoofer which is completely distortion free. You can easily run it on smartphones, pc, tablets through a 3.5mm audio jack connector. In this, you get 16 watt RMS which provides 16 to 20 kHz frequency. You will easily get it at Flipkart. We have given you a link for this.
Read Also: Top 5 Bluetooth Speakers in India Right Now