LinkedIn is the best social media platform for professionals.
It is an online place where companies and working professionals create their accounts to interact with each other.
The platform has different features to establish interaction between accounts. However, the most popular one is messaging which is also called Direct Messaging (DM).
Through messaging, a professional can directly send a message to other professionals.
But what about if a professional directly wants to communicate with a company or vice versa?
On LinkedIn, companies show their presence by creating a company page that is managed by the people working in the company.
But so far, LinkedIn company pages don't have the messaging feature. That is the reason, a professional won't be able to directly communicate with a company on LinkedIn.
To resolve this issue, LinkedIn finally has brought the direct messaging feature for company pages.
With this feature, a company page can directly send and receive messages on LinkedIn.
LinkedIn has been testing this feature with some users for the past few months.
LinkedIn says, over 63 million companies are actively posting on their company page. Having a direct messaging feature on the company page unlocks new possibilities of interaction. Also, soon LinkedIn will add AI elements in it which makes the interaction more smooth.
Let's look now, how this feature works.
How Direct Messaging in LinkedIn Company Page Works?
Take a look at the below screenshot.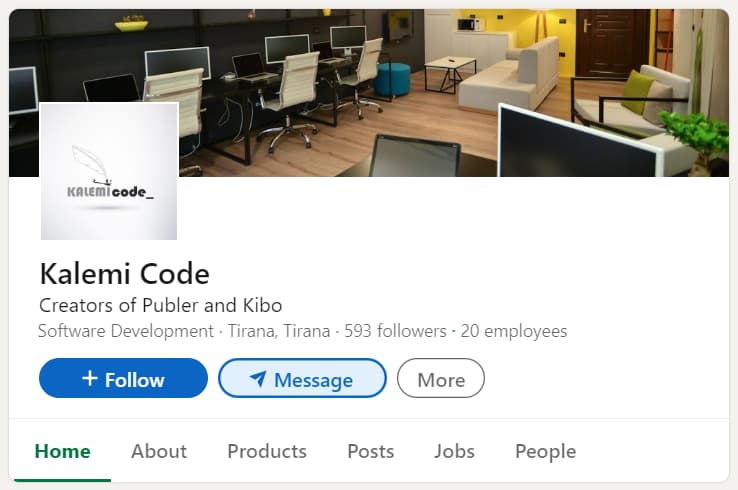 You can see that this company page has the message button on its page.
As a professional, if you want to interact with this company by tapping on the message button, it asks you to choose a conversation topic.
The conversation topic could be a service request, support, or job related query.
After choosing the topic, you can compose and send the message.
The message will be received by the admins of the page.
How to Enable Direct Messaging in a LinkedIn Company Page?
As I said above, while LinkedIn has been testing this feature for months, it is now rolling out for all the users.
As soon as your company page receives this feature, you will see an Inbox tab in the navigation bar.
Tapping on the inbox tab opens a page where through the settings (present on the right sidebar) you can configure your company page message option.
If you don't want the message button to have in your company page, the platform also gives you the option to toggle it off.
To categorize the messages, you can also enable some conversation topics that a user must choose before sending a message to your company page.
---
So, this is it for the article. Hope you find it useful. If you have any doubt or suggestion, feel free to write the same in the comment box down below.
Read also: LinkedIn Voice Messaging is Globally Rolling Out to Better Express Yourself