In this article, I am going to guide you, How to Log out of Multiple Websites at Once. Well, We all know if we delete our browser cookie then we automatically logged out of all the websites which we are currently logged in. This happens because Browser Cookies stores our login state information for different websites. However, here we are going to mention online services which can do this task for you.
How to Log out of Multiple Websites at Once? Via Different Online Services
Logify
Logify is a brand new online service that helps you to Sign out of Multiple Internet Services at Once. We all encounter with a situation where we open a lot of websites in our browser tab. Moreover, after using these websites we need to sign out of these websites. Signing out from websites is an important task from security Point of View. Sai Gurrapu creates Logify which helps you to log out of Multiple online accounts at once.
However, Right now, Logify supports only a few popular online services which we mention below.
Dropbox
Office 365
Google
Google Drive
Netflix
Skype
Amazon
Sound Cloud
Vimeo
YouTube
The New York Times
Wikipedia
Steam
MySpace
Tumblr
WordPress
The website address is Logify.ga however, right now, it live version is hosted on github. You can access it via this link: https://saig18.github.io/Logify/
Once you access the website you came to know that, the website looks very simple. To log out of all the online services I mention you above, all you have to visit this site and click on the big button present at the centre.
Once you click on this button, you will sign out from all the respective websites. In fact you get a notification for this too. You can also cross verify by visiting the sites you were login earlier.
Super Logout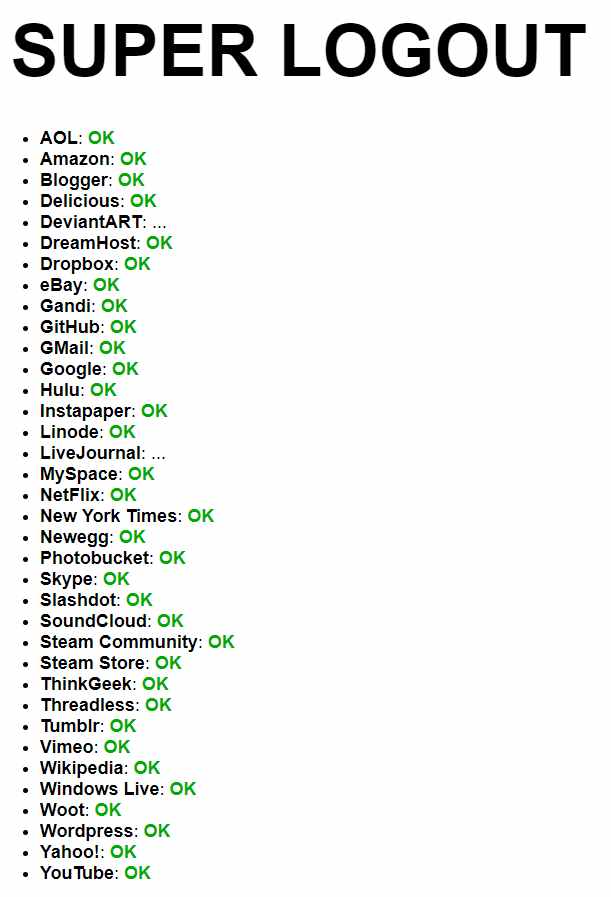 Super Logout (http://superlogout.com) is an another web service which do the same task. However, here the number of online services it supports is more than logify. Note that, here you won't even have to tap on a button to log out of different online services. Here you only have to visit the site and you logged out of all the online services it supports.
Read also: How to Download Movies From Torrent Websites using Torrent Client?