One of the world's popular instant messaging platforms "WhatsApp" will soon let users send large files of size up to 2GB on the platform.
With this feature, on one hand, the app will let users share large files between them, while on another hand, it will compete with its competitor Telegram which is already providing this feature since 2020.
Well, right now, the feature is in testing and has been spotted by some users in Argentina, and is available only for iOS users.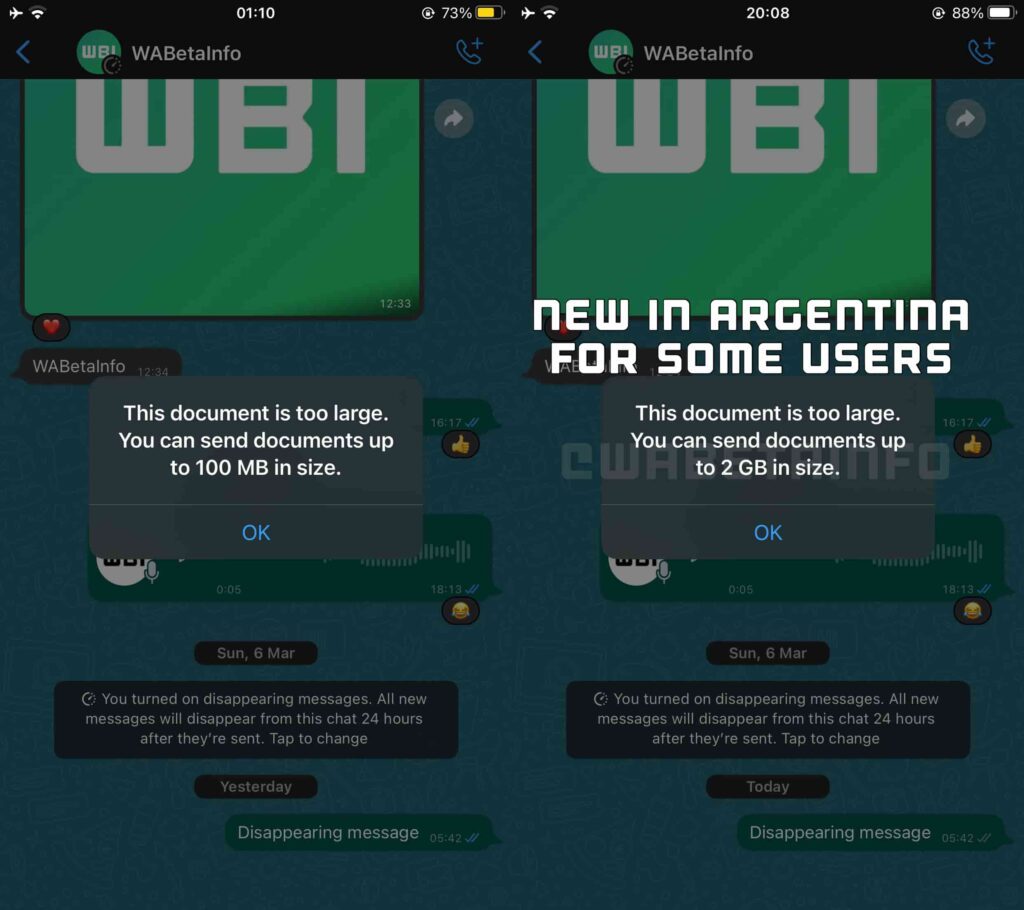 Popular reverse engineering website "WABetaInfo" has been spotted this feature for the first which is in beta right now, which means the company might roll it out in the future or not.
They spot it in WhatsApp for iOS Beta version 22.7.0.76.
Right now, users can send a file of size up to 100MB on WhatsApp.
WhatsApp is consistently testing new features to implement in its platform.
Some of the recent ones are:
Message Reaction Feature: With this feature, users will react with emojis to the messages on WhatsApp. Similar to how users react to a post on Facebook.
Hide Live Status: Here is another one. With this feature, users can hide when they are online on WhatsApp. So, no one can track when you are online on WhatsApp.
Logout: Similar to Facebook or any other social media, you will be able to log out of WhatsApp. WhatsApp is testing and planning to introduce this feature to prevent users from deleting their WhatsApp accounts.
Instagram Reels: Reels has now become one of the most popular features on Instagram. To let users watch reels natively on WhatsApp, Meta is planning to integrate Reels on WhatsApp as well. This feature is part of Meta's ambition to integrate the Meta-owned applications together.
Removing Limitation of Deleting Sent Message: Right now, if a user sends a message to someone on WhatsApp then can remove it (also known as delete for everyone) in under 68 minutes 16 seconds. However, now, the company is looking forward to removing this limitation.
There are a plethora of other features as well that WhatsApp is testing right now, either for iOS or Android devices.