In this article, we are going to guide you how to get a DigiLocker account. Moreover, we also explain what it is and its usage in detail. DigiLocker is an Initiative by Central Government of India. It gives us the facility to verify all our official documents to the respective officials digitally. For eg. suppose you are driving a motorcycle and a police personnel wants your driving licence and all that. Moreover, you forgot your driving license and paperwork at home. In such a situation, DigiLocker Prove to be helpful for you.
How Can One verify documents via DigiLocker?
You can easily verify your documents via DigiLocker App on your phone. You can think of DigiLocker like a safe where you can put all your legal documents. Hence, at the time of verification, you can bring those documents digitally say via Mobile or something. DigiLocker is valid at all places as it is an initiative by Central Government.
DigiLocker beneficial for people as well as the Government too. Now, Government has less paperwork to do exactly on paper. With the help of Digilocker, most of the legal works will do in minutes by computer and Servers. In fact, most of the legal document Issuer such as CBSE, Income Tax department etc directly send your documents to DigiLocker. On the other hand, a requestor can easily access those documents via their DigiLocker Account.
How to get a DigiLocker Account?
To get DigiLocker Account officials to need only your mobile number, that's it. However, to use some additional services you can also provide your Aadhaar Number there. Officials ask for your mobile to authenticate you via an OTP. Moreover, Giving Aadhaar Number is an optional service.
A Step by Step SignUp Process
To Sign up for DigiLocker Services you first go to this link from DigiLocker Official Website.
After opening this link you get a page like we have shown you below:
From the above page, you can signup for a DigiLocker account. You just have to enter your Mobile number in the space provided. Then Click on the continue button. As soon as you click on the continue button, the Mobile you entered will get an OTP. Enter the OTP in the given Space like we have shown below in the image.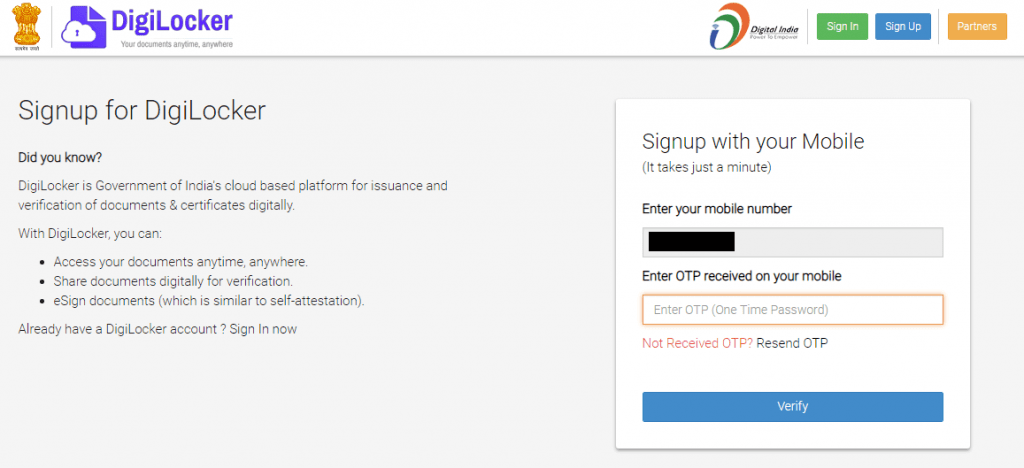 After entering the OTP click on the Verify button. Once you click on the verify button a new page will open that asks you to set your username and password. Here, you will create your username and password. We have posted the screenshot below.
Once you create your username and password click on the SignUp button. Make sure to note down your username and password somewhere for future reference.
Now, clicking on the SignUp button leads you to a new page that asks you to enter your Aadhaar Number. Note that, providing Aadhaar Number is not necessary. You can simply skip this step by clicking on the Continue here button at the bottom. Don't worry below we have posted the screenshot.
Moreover, If you would like to enter your Aadhaar Number. Then in that case first enter your 12 digits of Aadhaar Number. Then, the consent review button. Finally, click on the submit button. Once you click on the submit button your registered mobile no. for Aadhar will get an OTP. Fill out the OTP in the space given. Next click on the verify button.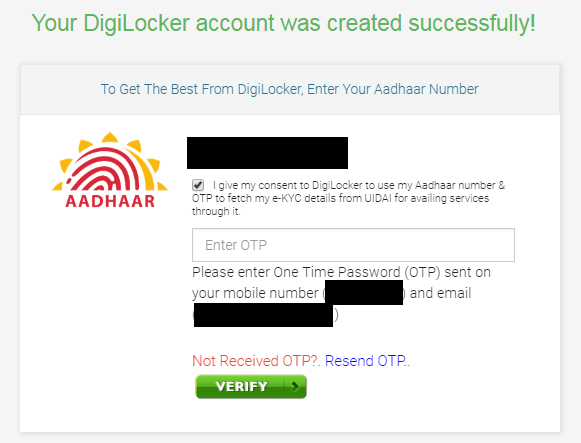 Once you click on the verify button your DigiLocker Account will be created.
Some Other Details
Right now most of the government services are rolling out to be compatible with DigiLocker. Hence, because this service is new right now, you will only a few Services there. However, In the upcoming months maybe you see most of the government services there.
Read also: How to Disable Conversation View in Gmail Mobile App?