With the rising petrol and diesel price, riders are shifting their interest to purchase electric vehicles.
Seems like that's the reason some reports suggest India's electric vehicle market size is expected to reach $152.21 billion by the year 2030.
Now, while on one hand, the demand for electric vehicles is rising in India, riders find it difficult to locate their nearest Electric Vehicle (EV) charging station.
Don't worry. This article is about the same. Here we explain to you about different apps and websites that help you locate the nearest electric vehicle charging station.
Let's learn about those apps and websites now.
Apps and Websites to Find Nearby EV Charging Stations in India
Below, is the list of apps and websites that can help you locate the nearest Electric Vehicle (EV) charging stations in India.
Google Maps
Google Maps is one of the best GPS and Navigation services available on the web right now.
With Google Maps, you can easily locate the nearest EV charging station.
All you need is to search for Electric Vehicle Charging Stations or EV Charging Stations on the map and it will bring you the results.
In addition to showing the nearest charging station, Google Maps also shows the type of charging plug and power output available on the station.
So, you can use Google Maps to easily find the nearest EV charging station in India.
You can access Google Maps from its website or apps.
EV Plugs
EV Plugs is a dedicated app (Android, iOS) to Find EV Charging Stations.
Once you sign up in the app, it asks you to fill in the vehicle information to find the compatible charging station nearby.
The app lists charging stations from companies like EESL, Tata Power, Statiq, Magenta, Ather, and others.
In addition to showing the charging station nearby, the app also shows you the direction to the charging station from your current location.
There are two views present in the app – Map View and ListView.
You can also save your favorite charging station in the app.
The app is said to bring some unique features like:
Real-Time availability of EV Charging Stations
Booking of Charging Slots at EV Stations
Payment to the EV Stations through UPI, Net Banking, Credit/Debit Card
Tata Motors EV Charging Locator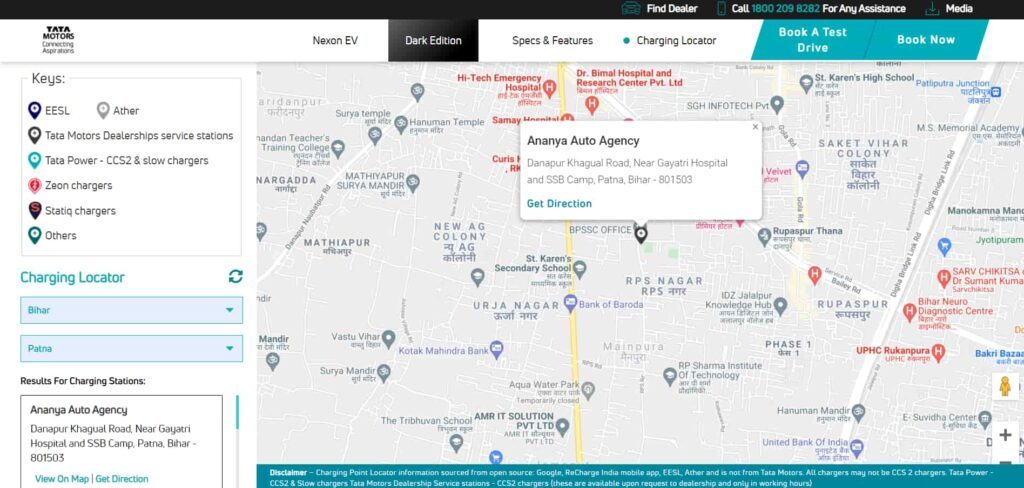 Especially for its Nexon EV, Tata Motors has launched a website where one can locate EV Charging stations.
The website lists EV Charging stations from:
EESL
Tata Motors Dealerships service stations
Tata Power – CCS2 & slow chargers
Zeon Chargers
Statiq Chargers
Ather and others
Tata Power EZ Charge
Tata Power EZ Charge is a dedicated app (Android, iOS) that lists EV Charging Stations only from the Tata Power EV charging network.
It is the one-stop EV charging solution for those who prefer only to charge the Electric Vehicle using the Tata solution.
Tata first installed the Public DC Fast Charging station in Mumbai in 2017. Now, so far the company's EV charging solution is available in 40 cities across India.
With the Tata Power EZ Charge app, riders will not just locate the nearest charging station but will also pay online for booking the charging slot.
ChargeList
ChargeList is a website to locate EV charging stations in India.
The website has a very simple interface and in addition to just listing the charging stations, the site also lists EV stores.
EV Charging Cost in India
The cost of charging an Electric Vehicle in India varies per region.
In Delhi, for low tension EVs, the charging cost is around Rs. 4.5 per unit.
In Mumbai and Bengaluru, the charging cost is around Rs. 15 and Rs. 7.28 per unit.
Can we charge an Electric Vehicle at Home?
Yes, we can charge an EV at home but for that, we need compatible power output and plug.
How many EV charging stations are there in India?
At the time of writing this article, India has more than 1000 EV Charging stations located also different cities.