In this article, I am going to explain to you Why you Don't Install every Windows 10 Update. Every Month Microsoft releases some update patches for its operating system. However, here we are talking about Windows 10.
Currently, Windows 10 Provides us two types of update which are the Feature Update and the Cumulative Update. I have classified the cumulative update further to three categories.
Talking about the feature update, you can think of it as a major Windows 10 Update which rolls out once in a 6 month. Windows 10 October Update 2018, 19H1 are examples of Feature update. Feature updates are those one which introduces new feature in the Windows 10 OS.
Now, Coming to Cumulative update it rolls out every month. Infact Windows 10 rolls out a minimum of three Cumulative update every month. Here is the catch! Make sure to underline the sentence I have mention a minimum of three cumulative update. Don't worry I will explain why I say it.
Read also: Flush DNS Command for Windows Mac and Linux
In the 2nd, 3rd, and 4th week of every month Microsoft releases a cumulative update. Microsoft call it B, C, and D update. Cumulative updates are those one which contains bugs improvement and security enhancement.
B Update (The Stable One): In the 2nd week of every month Microsoft releases the B update. This is only the cumulative update which is totally stable. You have to install only this update.
Rat Update: Updates that are released in the 3rd and 4th week of every month, we call it Rat Updates. Microsoft says, These updates are optional. We roll out these updates just to test the bug improvements and the upcoming security patch that is going to release in the next B update. C and D updates falls down to rat updates category.
One interesting thing I encounter once you click on the check for updates option in the Windows Update section, your windows automatically download the updates. This makes you a rat, because intially you don't know, the updates you want to download is a feature one or a cumulative.
Microsoft even clears about this fact via one of its blog post. In it also Microsoft officials says, both of these updates doesn't contain any security enhancement, it only contains bug improvement.
How to Stop an Ongoing Update in Windows 10?
Let me also give you a method which protects you from being rat. Suppose you click on the check for updates option in the 3rd and 4th week of a month, then the update you are downloading is a cumulative one. Now, you can stop the Ongoing Windows 10 update by applying this procedure. In fact you can do this via two methods.
Via Windows Inbuilt Services App: Open Cortona and type Services. Right Mouse click on the app option and click on the Run as Administrator.
Once the service app is open find Windows Update Service and stop it.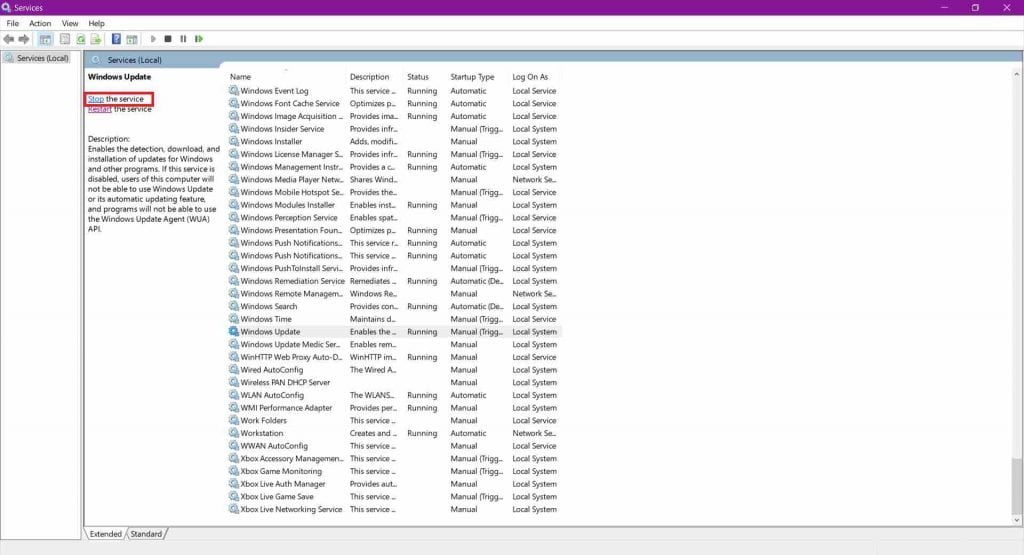 Via Stopping the Maintenance Option: Once you opt to install Windows 10 update, the automatic maintenance option in Windows 10 will run. If you stop this maintenance option then, Update is also going to stop. Just type Maintenance in cortona and open the first app.
Read also: Microsoft SwiftKey Keyboard App Adds Bing Search Bar