Meta, the parent company of several popular social media and messaging platforms such as Facebook, Instagram, and WhatsApp is planning to launch an alternative for Twitter.
In this article, I am going to talk about Meta's Twitter Alternative. I will explain to you how it looks (the user interface) and how it is going to function. Let's start!
After Elon Musk acquires Twitter, its future seems to be going in the dark. Users are now questioning the platform's stability. One day a feature is announced and the other day it evaporates from the platform. Even after the acquisition, its CEO has changed in mere 7 months.
Looking at such a shaking situation, other companies and persons seeing a business hope in the microblogging industry.
That's why after leaving Twitter, its former CEO, Jack Dosey built a decentralised microblogging platform called Bluesky whereas Mastodon is already in the race.
Now, seeing an opportunity, Meta has also participated in this race.
Meta is soon going to launch a decentralised microblogging app whose codename is P92 or Barcelona.
How will it work?
Well, it will be a text-based standalone app, but partially integrated in Instagram as well.
Lia Haberman, a Social and Influencer marketing teacher, shows via a tweet about how the app looks inside Instagram.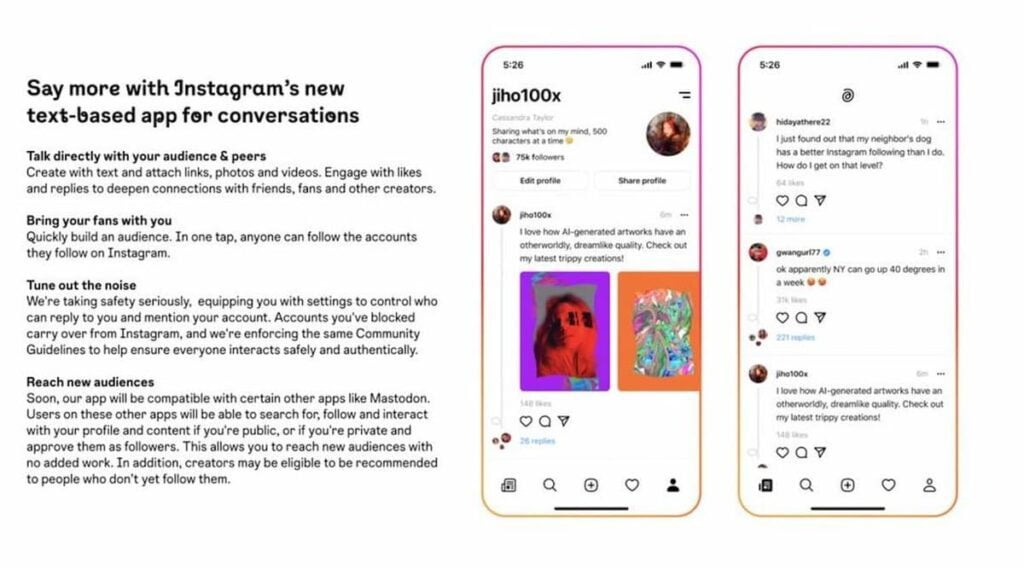 Now, you can see that it looks more or less like a combination of Instagram and Twitter.
Well, the features look similar to Twitter whereas the interface mostly resonates with Instagram.
Once Meta makes this app live on Instagram, users can notify their followers to follow them on P92 as well.
Now, while this app is built on the backend of Instagram, it is compatible with Mastodon which means you can interact with Mastodon users as well. They can follow you and you will also be able to follow them.
The length of the text you type in the post will be at max 500 characters whereas you can add images and videos also in the post.
The app will carry Instagram's creator controls and account safety features.
For example, if you have blocked some account in your Instagram handle then that account will automatically be blocked in P92. The words you have hidden in your Instagram account will also be reflected in P92.
Popular social media consultant, Matt Navarra tweeted that, to make the platform gain some early traction, it has started granting its early access to television actors, producers, writers, athletes, comedians and more. Meta is approaching high profile influencers and celebrities to become early adopters of this app, so that they can test its usage among a large group of users.
So, that is all for this article. Stay tuned with us by subscribing.
Read also: Meta Launches Paid Facebook Instagram Blue Tick Verification